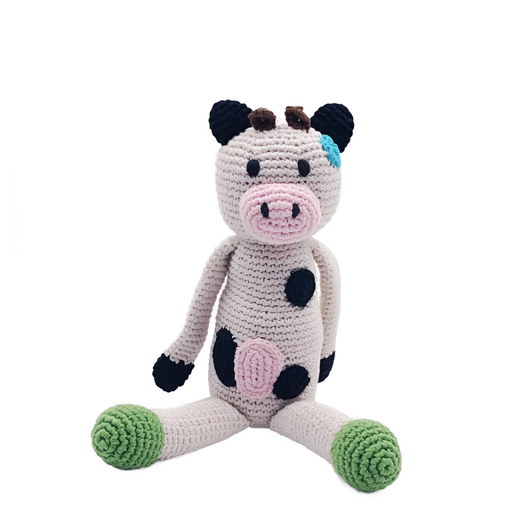 Hand-stitched Organic Cow
Regular price $24.95 Sale
Mooove on over and let the party begin! This cow has been planning hours of fun and can't wait to meet her new friend! Handmade with soft organic cotton yarn, this knit toy is super cuddly. The rattle inside gives a soft jingle when shaken.

Hand-made in Bangladesh (Read more on this story below). 
Dimensions: 4.8" l x 3" w x 3" h
Materials: Hand-knit with 100% cotton yarn and a poly fill
Machine Washable: For best results, place your Pebble toy in mesh bag and launder with cool water and non-toxic detergent. Fluff in dryer for a few minutes and then air dry.
Design Philosophy: Made with child development in mind. Colors, textures and shape spark tactile, auditory and visual stimulation.Slight color variations make each piece truly one-of-a-kind.
About Pebble
Pebble is a fair trade children's accessories brand and guaranteed member of the World Fair Trade Organization. Based in Canton, Ohio. When a young woman form the UK fell in love with a young man from Bangladesh, they both moved there and had a baby. She couldn't help but noticed other young women and mother's heading to the garment factories in the city daily and was saddened to discover that many were leaving their babies back in their villages, often for months at a time. 
Lack of rural employment for women was separating families and putting the mothers in harmful situations and the babies without their mothers. So this new mom did what she could. She gathered a few women and taught them how to knit and crochet little dollies that could be sold in the Western markets.
15 years later, her dream is becoming a reality. More than 13,000 women are now employed making Pebble toys in their home village. They walk to work, taking their babies with them. There they sit together, yarn spilling onto their laps as they knit community and love together in each heirloom Pebble toy. Pebble was born out of a love for babies and their mothers. Your support helps support them.