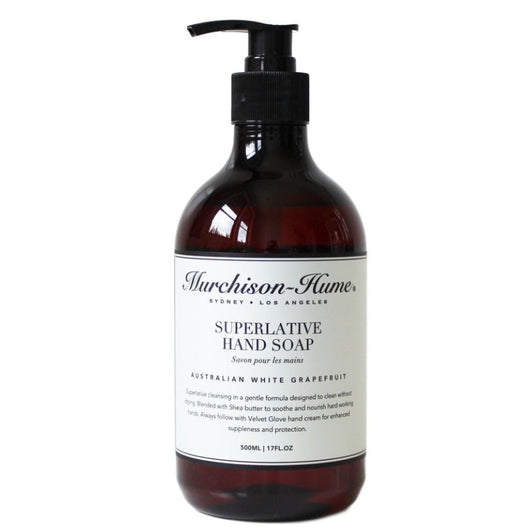 Superlative Hand Soap in Australian White Grapefruit
Regular price $23.00 Sale
This Superlative Hand Soap lives up to its name. Superlative cleansing in a gentle formula designed to clean without drying. Blended with Shea butter and chamomile to soothe and nourish hard working hands. You deserve it! Follow up with Velvet Glove Hand Cream
Lather up for 20 seconds, rinse and dry.
Australian White Grapefruit: A light, subtle citrus blossom freshly plucked from the branch
Ingredients: Aqua, Decyl Glucoside, Sodium Coco Fatty Alcohol Sulfate, Cocamide MEA, Sodium Chloride, Cocamidopropyl Betaine, Sodium Gluconate, Butyrospermum Parkii (Shea Butter), Benzyl Alcohol, Phenoxyethanol, Citric Acid, Fragrance.
These products never contain harsh chemicals such as Ammonia, Bleach, Dye, Formaldehyde, Parabens, & Phthalates.
100% Cruelty-Free & Made in Australia
About Murchison-Hume
Thoughtful, zero-waste, and sustainable homewares that make everyday living a little bit better. Murchison-Hume is Lifestyle brand that's all about elevating the everyday. Founded in 2008 in Sydney, Australia by LA-native Max Kater, Murchison-Hume lies at the intersection of beauty and practicality. Everything we make and sell reflects our four core values: Practicality, Responsibility, Authenticity, and Style. A product or idea that solves one of life's many mundane problems and looks good doing it?  That's our sweet spot.
Brand Values: Organic | Woman-Owned | Eco-Friendly