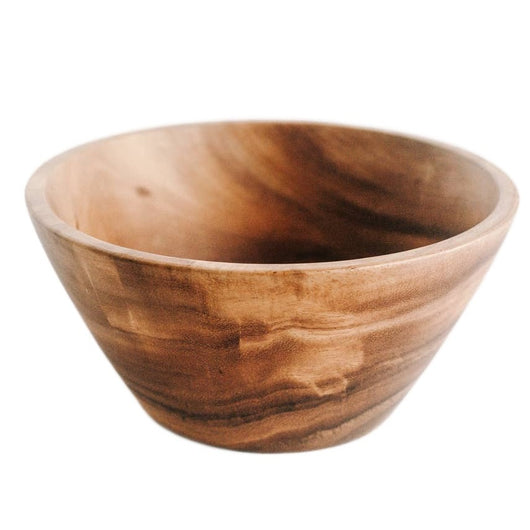 Ethically Handcrafted Acacia 9.5" Wood Salad Bowl
Regular price $50.00 Sale
Masterfully hand-carved by a small team in the Philippines, this large acacia wood bowl is a must for your serveware collection.
We use only certified sustainably harvested wood and each bowl is slowly kiln dried to ensure it lasts a lifetime.
Measures 9.5 inches top diameter x 4.5 inches tall. The base diameter measures 5 inches.
Ethically crafted in the Philippines.
*LOCAL PICKUP ONLY*
About Creative Women
Supports fellow women-led enterprises and to preserve their artistic heritage.  Through their skillful hands, we bring you the very best in luxury home décor using only the finest natural fibers, dyes and time-honored techniques.  Each handwoven thread tells a story of craft, culture and empowerment united with contemporary design.
Founded in 2004, Creative Women is a fair trade certified company working with over 1400 women in 9 countries. We are committed to long term artisan partnerships that create meaningful and lasting impacts on families and communities.  As our name suggests, we believe that women are creative agents for change and we strive for each of them to know their value and voice.