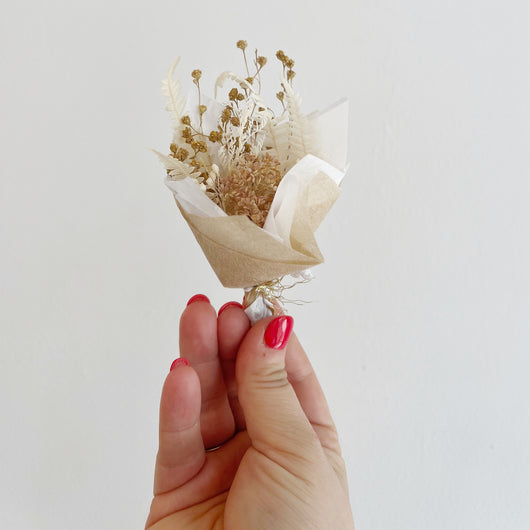 Dried Mini Floral Bouquets by Eve Floral Co.
Regular price $12.00 Sale
The most perfect mini-dried wrapped bouquet handmade by Eve Floral Co. Each bouquet has a beautiful selection of dried flowers in a creamy, neutral color palette hand-tied with ribbon, tissue + kraft paper combo. 
Available to purchase in store or for nationwide shipping.
Bouquets are tiny, measuring at 3 inches.
Care and handling: Dried flowers are practically ever lasting, but are sensitive to certain environments and care. Here is how we recommend caring for them:
No water, please! Water will damage them. Keep away from any moisture.
They can be sensitive to sunlight + air conditioning vents.
They should not be placed in high-traffic areas where they are likely to get hit or moved around as they are brittle + can break apart easily.
Keep out of reach of kitties - they love to use them as toys + should not be ingested. 
Head over to Eve Floral Co. at www.evefloralco.com for more of their work!