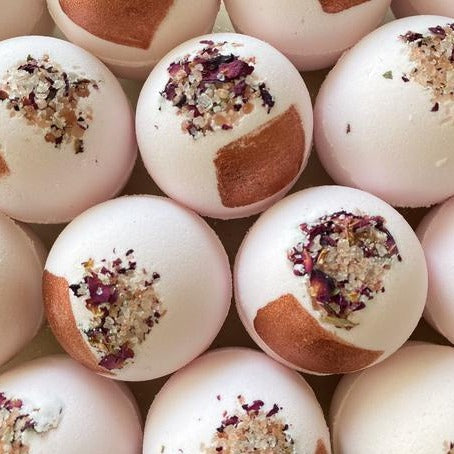 Grapefruit Rose Bath Bomb
Regular price $11.00 Sale
A luscious blend of crisp pink grapefruit and sweet smelling roses with a rose gold mica swish. Our handcrafted jumbo 7.5 oz. bath bombs are free from preservatives, parabens, sulfates, and any surfactant ingredients. Made with a blend of ingredients that will leave skin feeling moisturized and soft.

Ingredients: sodium bicarbonate, citric acid, coconut oil, polysorbate 80, kaolin clay, sea salt, mica color, florals, fragrance oil

*May contain botanical particles that will easily wash down the drain, and light coloring from natural micas and oxide colorants.

Use and storage: Bath bombs come shrink wrapped. Botanicals, florals, and other additives may be sprinkled into bath after wrapping is removed. Use bath bombs within 6 months of removing wrapping as exposure to air can cause them to lose fizzing quality and scent.
Photos by: Naked Bar Soap Co. 
About Naked Bar Soap Co.
Natasha Byrd-Gaylon and Jennifer Peets partnered and launched Naked Bar Soap Co. in 2013. Natasha's family skin conditions were the catalyst for her to begin creating handmade soaps and crafting her own bath and body recipes. In the beginning she was only crafting soap for family and friends as well as selling at a few farmers markets. Jennifer was a huge fan of the soaps and helped envision taking what Natasha started to the next level.
Through their Afro Latina roots, they shared a cultural bond as well as a love for all thing's natural, beauty, and skincare. The term "naked" means undisguised, blatant, and devoid of concealment. Their artisan soaps are made with a recipe of olive oil, coconut oil, and sustainable palm oil combined with dollops of creamy shea butter, rich cocoa butter, and exotic mango butter. They use pure essential oils and a selection of quality natural fragrance oils to craft their luscious scents. Their products are crafted in small batches to ensure quality and freshness. Their products offer a moment of relaxation, self-care/wellness, and a sensual regeneration of the body and mind.
- Eco-friendly
- Handmade
- Women Owned
- Small Batch
- Made in the USA