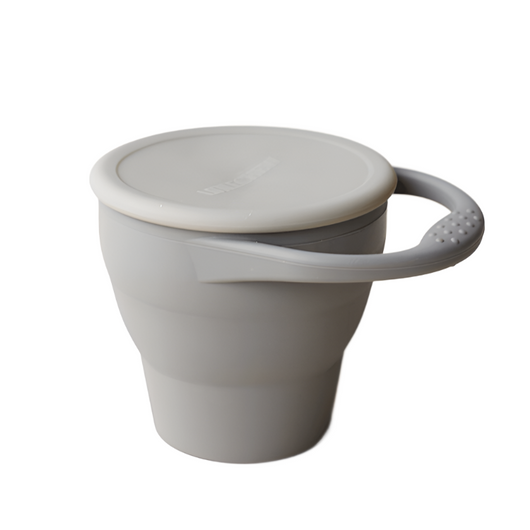 Foldable Silicone Snack Cup (in Pebble)
Regular price $20.00 Sale
The best Foldable Snack Cups! These little toddler snack cups are the perfect accessory for parents on the go!
Made from lightweight, 100% food grade silicone and FDA approved, they fold down for travel when not in use and then pop back out for easy cleaning. It has an amazingly soft opening for little hands to reach whilst keeping food contents safely inside.
It also features a lid to pop on to ensure the contents don't spill. The lid also keeps grass, sand or dirt out. We love them for their simple, clean design and portability. An innovative product that can be used both indoors and out.
Lightweight and easy to hold, these snack cups ensure that your little one's snacks don't spill out.
Folding to just 1.5 inches, they make an essential travel companion. Includes dust-proof lid.
DIMENSIONS:
Folded 3.75' x 3.75' x 1.5'
Unfolded 3.75' x 3.75' x 3.5'
MATERIAL + CARE: 100% food-grade silicone No BPA, no lead, no phthalates, no cadmium Dishwasher safe up to 350F Store in a dry place Wash before first use
About bug + bean:
Based in Sardis, OH! An American/Australian wife and husband team with a focus on modern design, sustainable practices and eco-friendly products for both children and parents to benefit from.
More than ever parents want to ensure their children have a beautiful environment and world to grow up in. With that in mind they have produced and curated products from artisans, small batch manufacturers and brands with values similar to their own all with an eye for design and detail.